During the class, I hadn't managed to get to sleep before 2 or 3am, so I started to skip breakfasts in order to sleep in to at least 8:30. I ran into town (well, across the street and down a block or two) to hit Starbuck's and the drug store to pick up some paper toweling since the studio had run out the day before, so I didn't want to count on it.
I had slapped another coat or two of matte medium on my board... too much in a hurry to sand the texture away. And all too soon it was Lunch. And after lunch--two special guests gave a presentation on Fantasy in Picture Books, children's book illustrators Dennis Nolan and Gary Lippincott.
From "Dinosaur Dream" (I think!), by Dennis Nolan--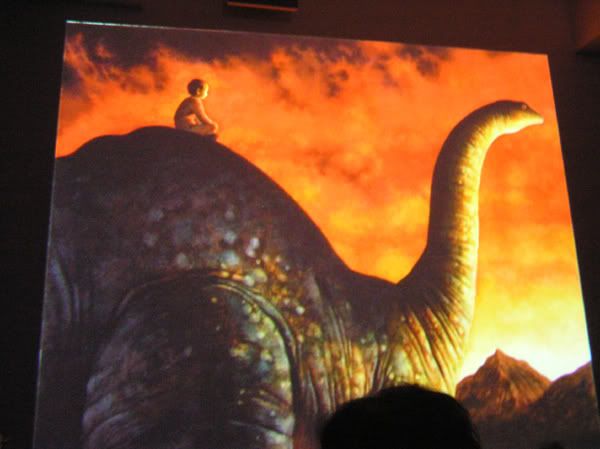 Dennis Nolan presented his work first. Influences (from childhood onward): '50s Golden Books, Dr. Seuss, Rackham, Parrish, Little Nemo, Mad Magazine, Frazetta, Sendak, Jason and the Argonauts. He did a variety of jobs (magazine covers, album covers, book covers, etc.) before becoming more well-known for his picture book work.
From one of his earlier books, "Castle Builder," which was done all in pen and ink, stippling it all (he said he estimated the number of little dots he'd made at about 2 million).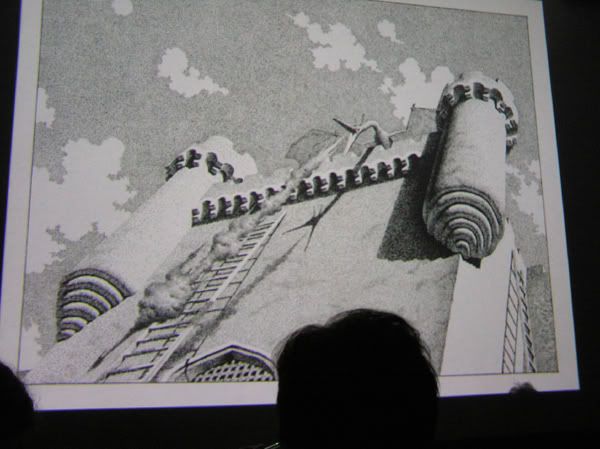 Example of his making a model for reference--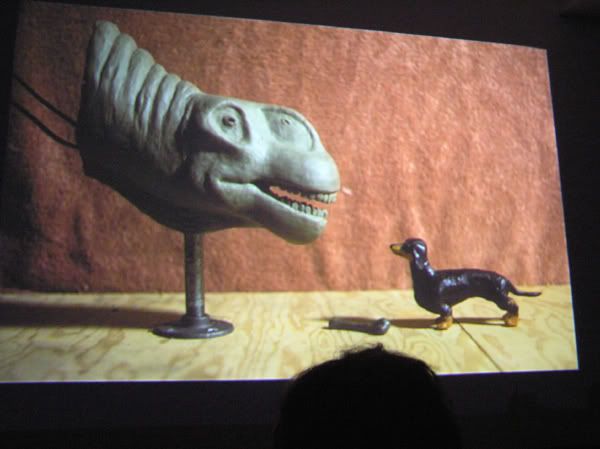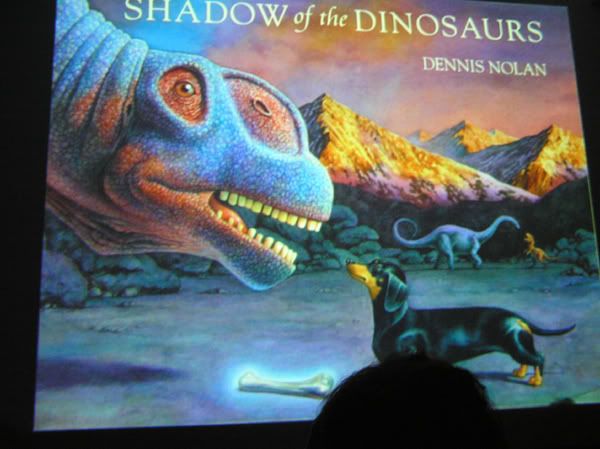 Painting in progress... watercolors, I think--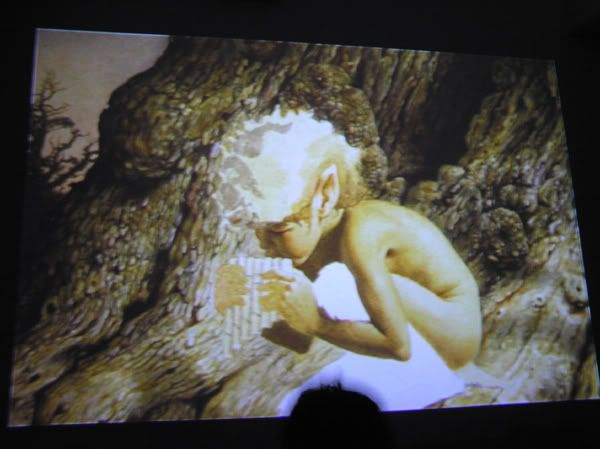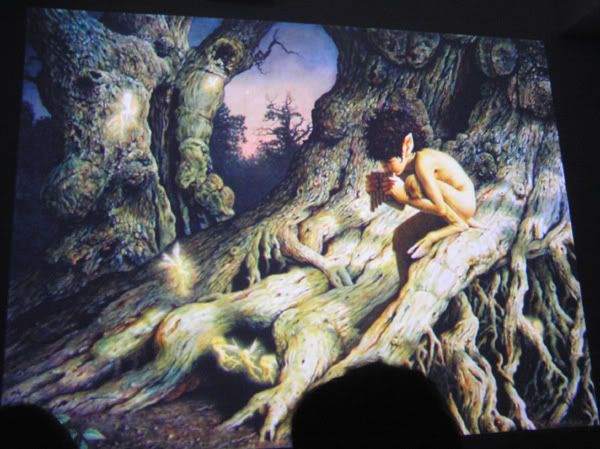 Then there was Gary Lippincott--
Uses watercolors, liquid frisket (an art of its own, he said), works typically light to dark, back to front, wet washes to dry brush.
Example of in-progress (actually, unfinished) painting--
The after dinner presentation was by the wonderful Charles Vess, who did the art for the original graphic novel version of Neil Gaiman's "Stardust." I think he said he did this image before the book/story was finished--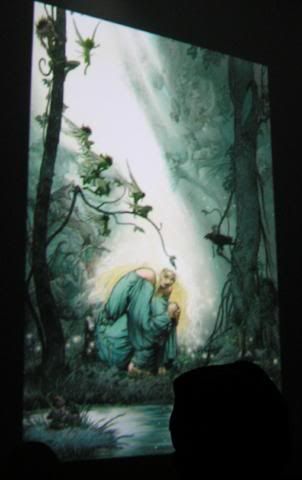 Influences--Prince Valiant (comic strip), Beardsley, Pyle, Wyeth, Rackham, Dulac, Kay Nielsen, etc.
Example of painting progression--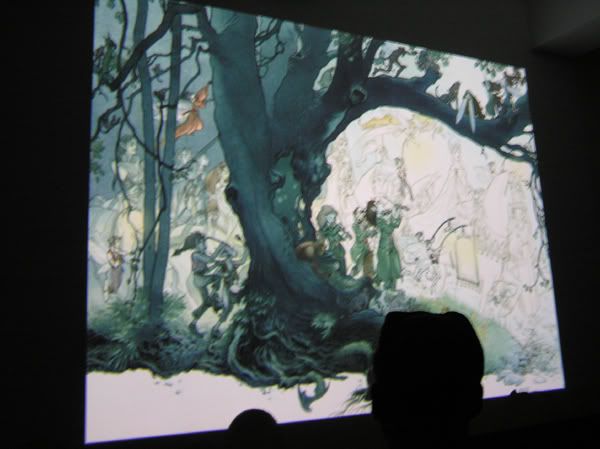 In Studio B, Dan Dos Santos did a Life Portrait Demo, working on several quick monochromatic sketches first--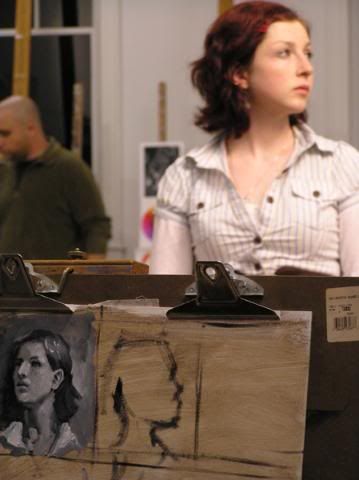 Then mixing colors--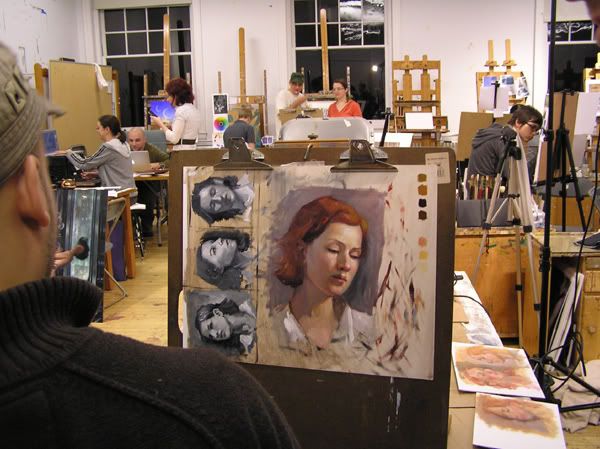 Boris and Julie had moved up to Studio B to continue their paintings--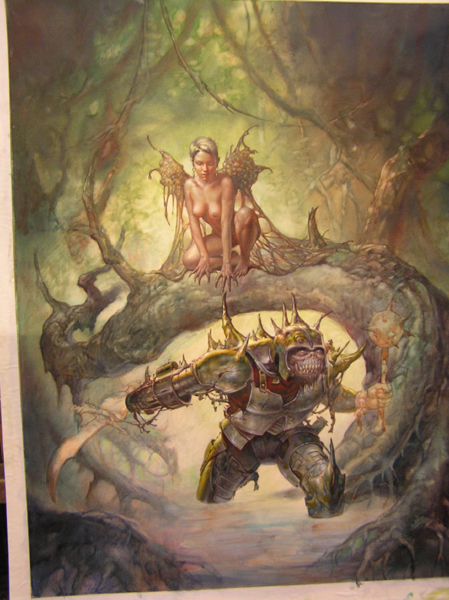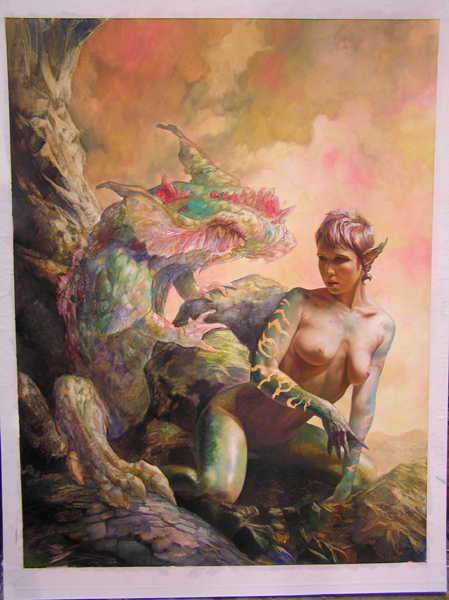 Greg Manchess had original art tacked to the walls of Studio A--
Charles Vess started working on his own version of the Lady of the Lake, penciled then inked within a day or so, and he also had originals on the walls of Studio A--
Students painting in Studio B, another Lady of the Lake--
... and one of the SF covers--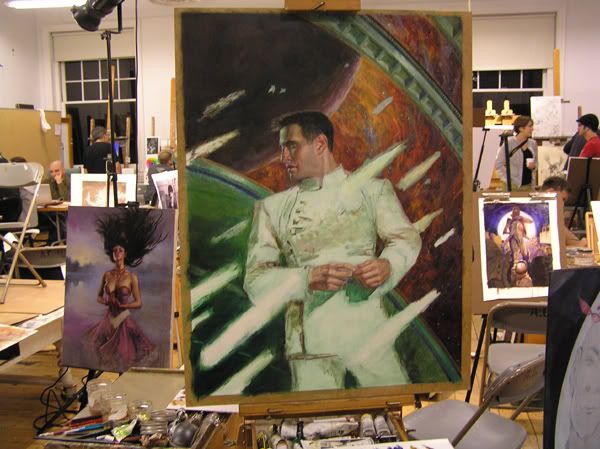 Working furiously, students in Studio A... Pizza was ordered around 10 or 11pm... work continued way into the morning hours (with all the presentations and demos, there was little other time to work, aside from all night, but the energy was high, although there were early-birds who slept and came in early in the morning. Most people were working traditionally whether they were digital artists or not, taking advantage of all the instructors who worked in oils, but there were also stations along the sides with tables for those working digitally--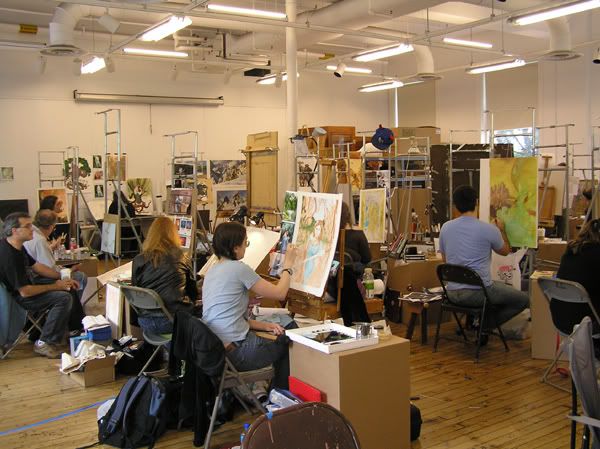 To be continued... SEVERAL MORE DAYS TO COME!!!
----------------
I hope all the Americans had a fab 4th! Fireworks, music, picnics, barbeques... what's not to like???