Friday, September 17, 2004
My First Laptop Computer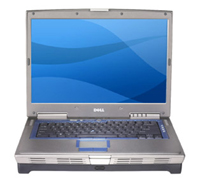 This is rather like making a baby announcement.
It's a Dell Inspiron 9100!
Pentium 4, 3.2 GHz
15.4" Scree, WUXGA
1 GB DDR, 400MHz DIMMs
128 MB ATI Mobility Radeon 9700
8X DVD+RW Combo Drive
60 GB Ultra ATA Hard Drive
Win XP Pro
Dell Website--Inspiron 9100
------------
This is, I am rather ashamed to admit, the first computer I've ever bought, and the only computer I've had at home in about ten years.
I work on a computer all day at work--and it has lots of programs on it and a high-speed internet connection, so I never had a burning desire to spend a lot of money to try and duplicate that at home. But being in the Computer Game Industry for around ten years makes this somewhat of a heresy as far as my co-workers go.
Peer pressure (and just wanting to do some things at home and not using my work computer) has brought me to the point of spending massive amounts on a computer. Of course I want a really cool computer...
I want to play some games on it, so I wanted a decent video card. I'm not a high-power gamer by any stretch, but I don't want to buy another computer any time soon, so I thought I'd better try for a better card--one that wasn't hundreds of dollars, though. Hence the 128 MG card as a minimum requirement.
Why Dell? Because I've used Dells at work and they seem OK. I've heard that they have experienced some problems--seemingly related to bad assembly and outsourcing--but perhaps the complaints are from people with axes to grind. Anyway, Dells allow for customization. I had some basic requirements (such as 1 Gig of RAM, to help out with any graphics-intensive programs I might be using) and didn't want to mess about with fine-tuning a laptop by myself, since I just am not good at that.
Why a Laptop? Because I hate hauling about heavy cpu's. I don't do it often--just when moving or for repairs or whatever--but they are a pain on the fingers and I'll pay the extra for not having to deal with it. Also--I'm in a one-bedroom apartment that is running out of space.
Why a Refurbished computer? The regular 9100's were regularly over 2K in price. I knew I could, eventually, see a configuration I liked on Dell's website. I was patient. After all, I could continue to use my work computer for nearly everything. And I hoped that with a Refurb, someone would have had to inspect it to make sure everything was OK.
--------
Well... I ordered on-line (using as many coupons and discounts as I could find--and there are usually quite a few on Dell's site and elsewhere--just Google it or something). The discounts actually brought the price down a few hundred to $1800.00+ which isn't too horribly awful (I'm so cheap!). Unfortunately there were no free shipping coupons around, but I figured it was OK, since at least it was a laptop and not horribly heavy.
I order it on August 27 and it arrives on September 1.
I plug it in and press Power. Leds flash, fans go on... Blank, black screen...
Oh, oh...
I try it a few more times. Read up on trouble-shooting.
After about 10 tries the display goes on and I get a few screens through the set-up, then black...
I get a bit farther the next time--all the way through set-up. I wonder if the computer is affected by the horrible heatwave we've been having. It's over 100 degrees and the whole box and computer was giving off heat like an oven when I first opened it.
I decide to let it rest and go home from the office for the day. The next day I start it up again... Black screen.
At lunch I try the website to see if it has trouble-shooting help. I don't think it likes my browser (Opera, because I got a horrible pop-up virus with Explorer), and I can't send a request to Tech Support. So I phone the 800 number and get Tech Support. A very nice guy with excellent English (but with the slightest, very slightest of accents; I know most of this stuff is done over-seas, though). He has me try pushing several Function keys while trying to start up. Nothing.
He quickly orders another computer to be sent out. A good policy, since I can just return mine in disgust and get my money back and decide to spend it somewhere else.
About five days later (as predicted), a new computer arrives at my work. This one goes on immediately. I bring it home and try to figure out if it has the same software and specs as the first one. This takes a few days, since we're in crunch (working long hours for no compensation) at work, so I'm getting home around midnight.
I check to see if the modem works, and various programs, like WordPerfect. I load on Microsoft Works, which came with the first computer.
My co-workers warn me that if I don't immediately send back the original computer I could get in trouble, but really, I don't have the time to sort it all out quickly. And wouldn't you know it, I get a letter asking about it, but worded quite nicely--giving instructions one how to send stuff back and who to call if there are problems.
So I finally pack up the old one in the new box (as they requested), hopefully keeping the correct software cds and instructions and AC adaptors and what-have-you.
Right now, I'm waiting for the DHL guy to come pick the box up.
I'll have to report later on how I find using the new computer.
Wednesday, September 15, 2004
The Collecting Gene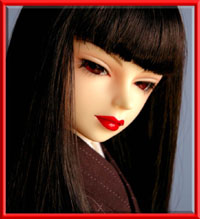 I think I must have some problem with compulsive behavior. Well, perhaps not, but I definitely must have the "Collecting Gene." You know, the urge that makes a person have the deep desire to collect things...
I don't have it super-bad. Not to the point that they'll find my dead body suffocated under masses of old newspapers in my apartment. But my condition is unfortunately close enough.
I love to shop. I love to buy things. Ebay is a main supplier, but hey--stores are EVERYWHERE... so I can't easily avoid pandering to my addiction.
It's a curious, but not an uncommon, phenomenon. I don't think I'm making up for not being loved or something traumatic in my childhood. But who knows? Most of us are rather horribly screwed up in some way by nature or nurture or both most likely. I will blame it on nature and say it must be in the genes.
Anyway, my current obsession is an extention of an old obsession. I've always liked dolls. I didn't have many when I was a kid, but I had a few. Now, with my own income, it's rather dangerous. But dolls--what's so bad about that? I'm a female, people-oriented, fashion-oriented, and I can use the excuse that dolls make great reference for paintings.
To be specific, I've been obsessing for the past week or so about Volks (Japanese company) Super Dollfie (type/size) dolls, and similar non-Volks dolls. I haven't quite acted on my obsession yet, although I've been sorely tempted. I've been interested before, but now there's more dollfie-type doll auctions on ebay, and I haunt ebay way too much, so it's become a bit more of a problem.
These things are EXPENSIVE. But I really, really, really want to have one. It'll be interesting to see if I manage to hold out. I usually can't resist the siren call of things I've wanted, but I'm also kinda cheap, so maybe the price will just keep me scared off. Although, bad sign, it's rather odd how views can be skewed and rationalized. To me, any doll above $200 is way too expensive. But super dollfies tend to run from $700 to $1,500. So $700 is starting to sound reasonable. Oh, dear...
Anyway--Super Dollfies... they are Japanese, with similar dolls made in Japan and Korea. They're usually about 21.6" tall and the eyes and wigs can be swapped out, as well as the clothes, of course. There are smaller ("mini" Dollfie) versions and non-"super" dollfies that are about the size of a Barbie. The Super Dollfies are the large ones. They're made out of resin and have a fair amount of joints/articulation.
This particular jag started when I saw a customized doll on ebay. It had a gorgeously painted face, nice wig(hairstyle), and a beautiful outfit. I just couldn't bring myself to bid, even though I came very, very close... It ended up selling for over $1k. *sigh*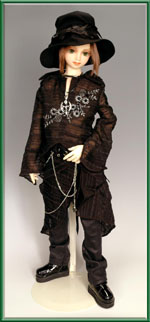 The customizer (painter of the face/make-up and overall designer of the look --clothes, hair, etc.) is Satoko Ono, whose website is:
Satoko Ono's Custom Doll Site
The other pictures here are from the same website. No permission asked, but hopefully the link is some compensation...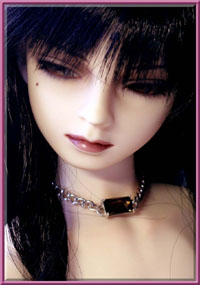 Addicted to Babbling
All the world is a stage and we all want to play on it... have that 15 minutes of Fame... Carpe Diem... expose all your Dirty Linen... throw Stones in Glass Houses... or on a Reality or Talk Show... be Exploited... and hunted by Paparazzi... mix horrible metaphors... all Self-inflicted... (and abuse punctuation and grammar...)
Is it really a good thing to pollute the internet with everyone's ramblings?
Should one follow the crowd like so many lemmings?
Can it possibly be of any use to reveal just how inane one's inner-life truly is???
The wise would say, "no, no and no!" But being anything but wise, here I am wasting your time and mine with a blog!
So... are we all leading such useless lives that catching glimpses of other useless lives is that interesting to us?
I hope not. Maybe there's some deeper and more worthy need, such as merely the human connection? And yet... isn't it somewhat pathetic to try and fulfill this need through the internet???
I suppose I'll leave it to the Philosphers.
--So what do you think?
;)
Subscribe to Posts [Atom]