Friday, June 26, 2009
Illustration Master Class-- Day Two
[Been listening to Michael Jackson and Farrah Fawcett tributes all day and all night... I grew up with MJ... loved him in the Jackson Five and lived through the craziness of the brilliant Thriller album. Definitely the end of an era...]
So... Tuesday, June 16... I actually posted my first LJ report late on Monday night... so I think I got to sleep at around 2:30am or so. Breakfast was at Amherst's Valentine Hall from 7:00 to 8:30, a short walk from our dorm, Pratt Hall. But... I am SO not a morning person. Also, EDT is three hours earlier than PDT, which Did Not Help! *groan!*
[Michael Whelan, guest-instructor, viewing instructor Greg Manchess's work.]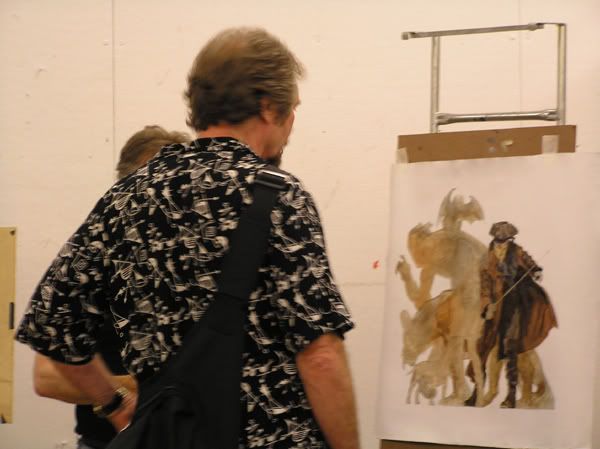 The food was good, though. And I thought I should have breakfast, since it came with the course and I knew it would be a long and busy day. We had a Hazardous Materials and Safety Meeting at 9:45, wherein the college's representative quickly ran down all the rules, such as making sure absolutely NOTHING went down the drains or into the trash that had any kind of paint or medium on it. There were special bins for everything--paper toweling and wash water and turpentine, etc. Wow. Well, I guess it wasn't a great idea for us to be pouring stuff down drains for all those years in other places, but still... wow.
Donato had some of his sketches spread out for us to look at--
I spent the morning on my laptop in my room, looking over the photo ref that was shot the night before and picking out the ones that were closest to my sketch, then laying them in to see... Of course, my sketch had the figure twisted in a pretty broken way (no human could pose that way, unless they were a contortionist... poor Zelda was not happy when I was telling her to try and twist around more!). THAT of course, is a reason photo refs are necessary--so figures can pose in a realistic way! Anyway, I mocked up an image with Zelda's pose. I'd change things in my sketch, of course... make her longer, mostly, but try and keep the pose looking real...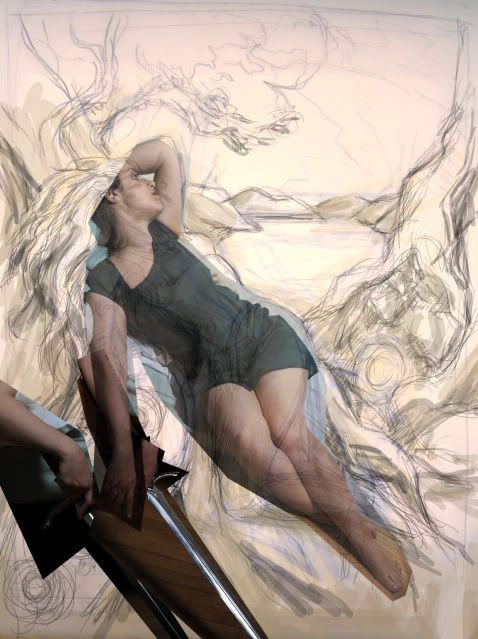 Then I ran back over to the Studio because that's where all the fun was! I 'borrowed' some tracing paper from Diana and sat in my spot and sketched for the morning. Troubles were looming in that the copy shop in town that usually makes large-sized prints on heavy art paper was out of service. Fortunately, Ruth Thompson had hauled along her 19" Epson printer and laptop and set them up in the Studio for everyone to use (with a suggested donation to cover ink costs). That was a total life-saver!
And Drew Baker had brought his 22" printer to use (back at the dorm). I swear, the students were all great about sharing stuff--materials and equipment... it was heart-warming!
Ruth had mounted one of her drawings to board already, using the Donato method, and had started her underpainting in acrylics (borrowing some of mine--which I rarely ever use nowadays, but had managed to pack). It was looking great. I had fun sitting next to her and seeing it all go along (particularly since I was working so slowly... my usual pace, alas!). She had tiled two pieces of paper together on the masonite, since her 19" printer couldn't accommodate her large image, which is why the papers look different.
Lunch was over at Valentine Hall... a short walk from our studios in Fayerweather, from 12 to 1:00. Again, a nice spread of food, cafeteria style.
And afterwards, we had a lecture at 1pm, by Dan DosSantos on Frankensteining reference. I was recording most of the talks, but haven't downloaded them yet. Anyway... he demonstrated by showing a photo he'd taken just outside, a model (Rebecca?) against a stone background with ivy. Then he'd rifled through the internet the night before to pull off bits and pieces that he used to create an outfit and jewelry and flowers for the background... and he put them all into the picture, flipping and distorting and changing the elements to make them work.
Here he is afterwards, laying in the sketch/undrepainting, with the printed out frankensteined photo-ref to his left, plus the original photo of the head and other refs around him. The top one was all gridded out so he could re-create it on his ground. Wow, he works quickly, getting that down! He had the face painted in a blink, it seemed!
The afternoon studio session always goes quickly and dinner was from 5:00 to 6:30.
7 to 8 was a Lecture/presentation by Greg Manchess. Again, I recorded it and haven't downloaded it yet, so no details yet (if anyone is interested, I may post more later). He covers his career so far and has lots of terrific images and is an amusing speaker--showing his reference shots--mostly using himself as a model for all sorts of figures!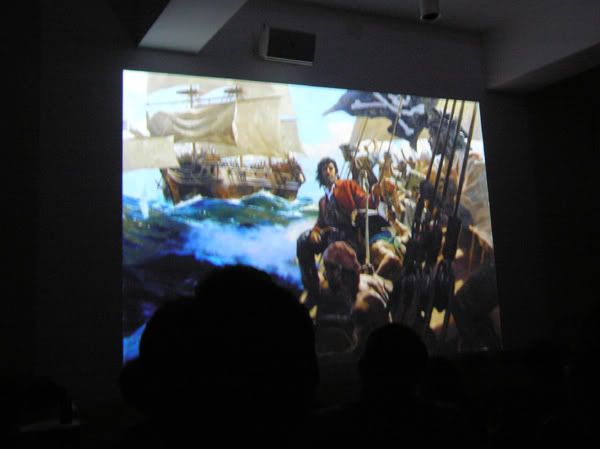 In the evening studio session, Boris and Julie are back, painting away. They've laid in background detail and their paintings are coming along so quickly.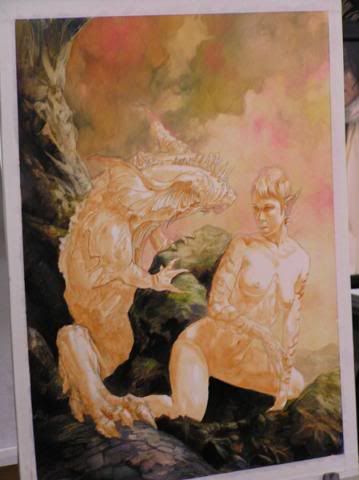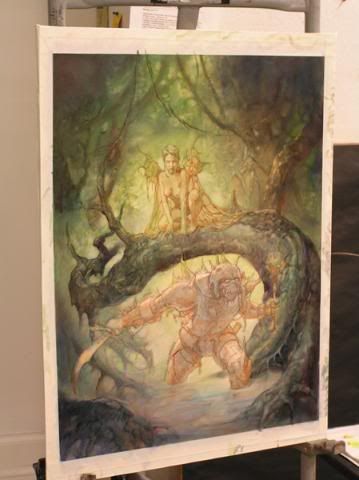 And then everyone is running for their cameras as Irene Gallo has been decked out in the full suit of armor that L. A. Williams has hauled along with him from Ohio. Another (Mark?) has brought a sword. (A number of students had brought props and stuff--swords, gowns, fabric--it was great!) Irene makes a perfect Joan of Arc, and that is Charles Vess behind her, and also L. A. Williams in the background.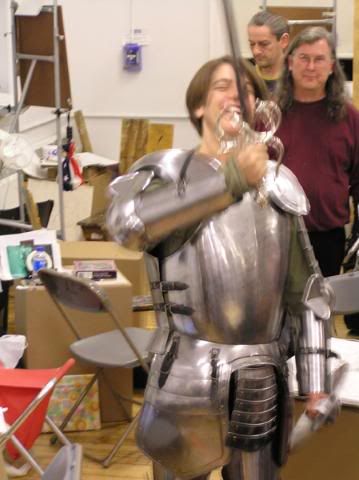 We were all laughing and having a great time crowding around them. It was just fun and crazy and not at all something you see every day!
For some reason, I'm still not early to bed! Ah, well... just too much going on. I think people are already hanging about the studios working away until the early morning! I try downloading my photos to possibly post here, but the wireless connection is pathetically slow, so I give up and wait until after I return (now!). Gah... It was like being on a bad dial-up! I don't know how the students stand it. Maybe they buy their own connection???
Anyway, more later!
Labels: art, fantasy art, illustration, illustration master class
Tuesday, June 23, 2009
Illustration Master Class-- Day One-- Continued
I'm back, but still exhausted, so this will be a brief post!
On the first day, after the moving our stuff to the studios (there were two in the Fayerweather building--Studio A downstairs and Studio B upstairs, with 40 students in each--I was downstairs in A) and having our sketches looked at before and after lunch, and then going to the lecture on shooting reference and studio set-ups, we had the evening tine in the studios, from 8pm to 10pm (and the building open until 1pm... or later for people to work if they wish). It was fantastic to see the instructors set up, with them working away!
How often can one get to see Boris painting?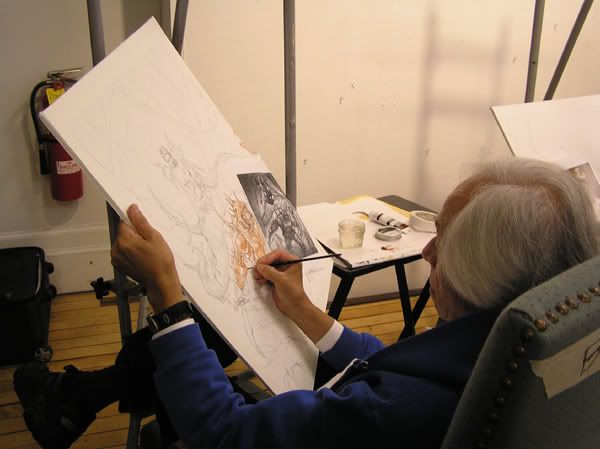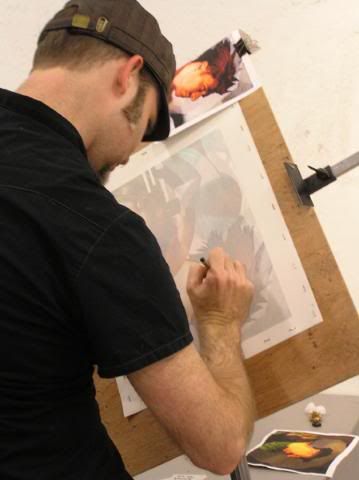 Scott Fischer had a rotating board to paint on.
Greg Manchess was starting a piece that was one of our assignments (the Steampunk Wizard of Oz).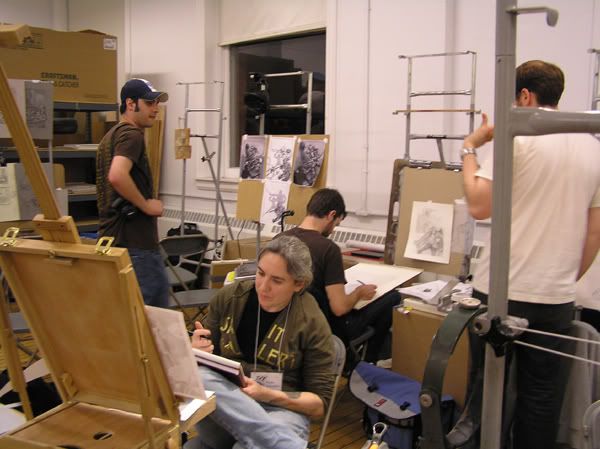 Students, already set up and working hard.
John already had a terrific finished sketch ready to go for the Lady of the Lake assignment--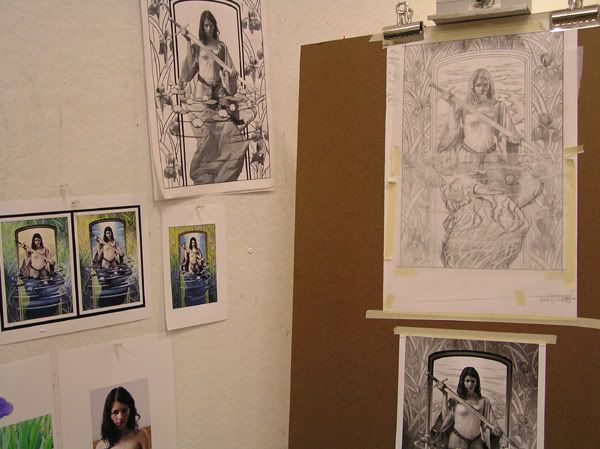 Boris, with Julie Bell painting next to him, had a comfy chair, with his name taped on back.
Some of Dan DosSantos's paintings on display in Studio A (I'd actually read BUTCHER BIRD, that had his art on the cover, which was my intro to his art).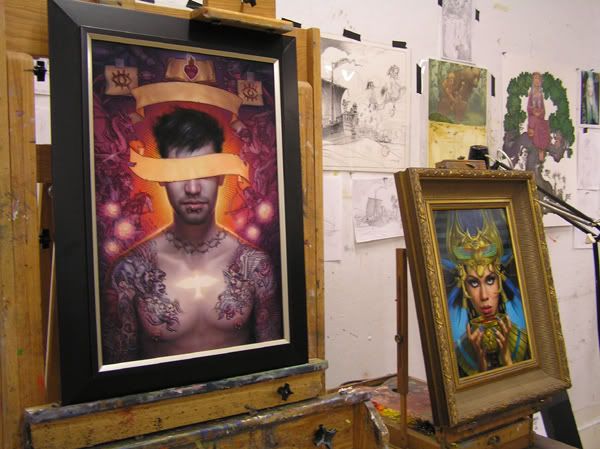 Donato had the beginning of the private commission he was working on--
Greg Manchess knocked in the first figure on his piece the first night--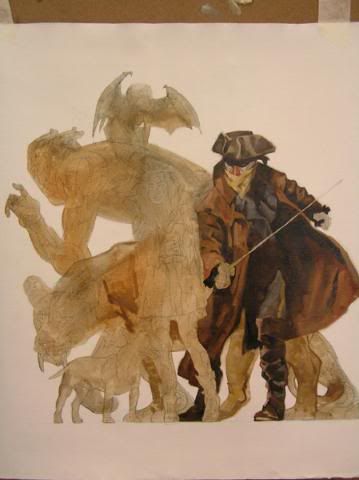 Scott got a lot done also--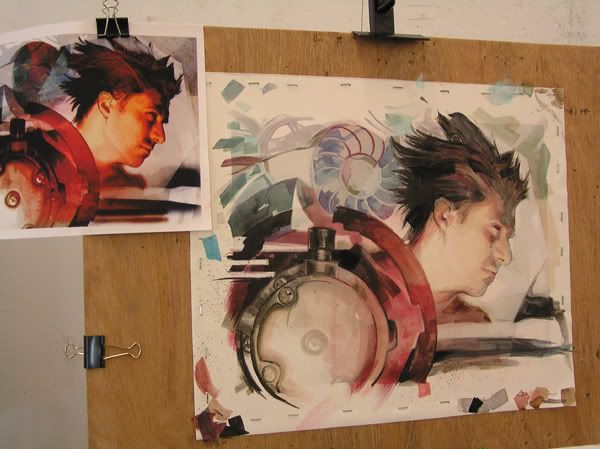 Julie Bell painted the underpainting--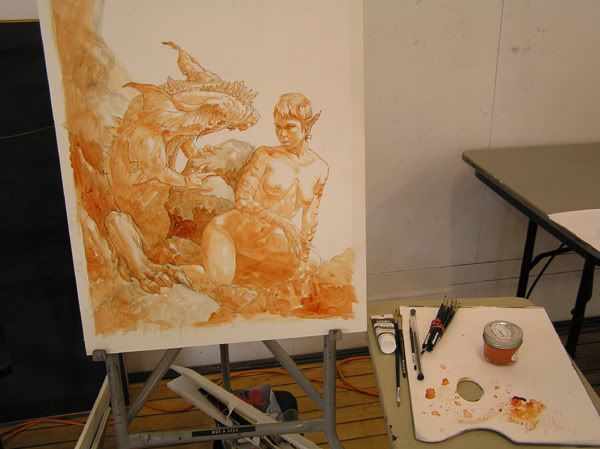 As did Boris... all in an hour or two--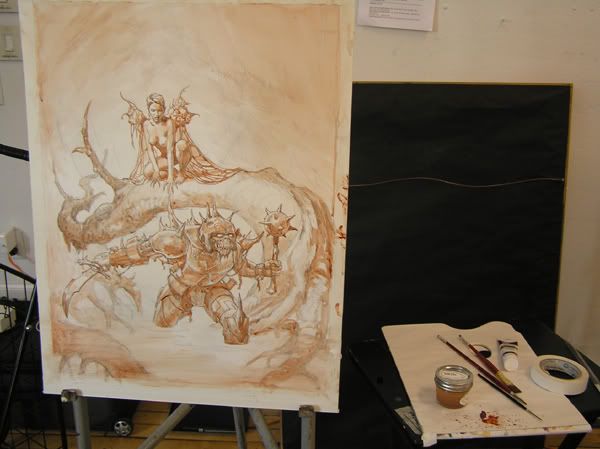 Of course, they are well-admired professionals for a reason! I was still working on my sketch, of course... shooting photo-refs in L. A. Williams' room, since he had brought his lights and D700 camera, and the fantastic Zelda (who does the graphic/comics on Tor.com) had volunteered to model for a few of us (Diana Stein and Joseph and me), while she got Ruth Thompson to model for her. I was still sorting through photos at 2am. And the late nights only got later from there! Agh!
As I'm still Very Sleepy, that's all for now...!!!
Labels: art, fantasy art, illustration, illustration master class, IMC
Illustration Master Class-- Day One
[cross-posted from my LJ]
For a fantasy illustrator, this is like dying and going to heaven! There are 70+ students, ranging from beginning to being tops in their fields. Everyone is excited and working together and amazingly kick-ass. I arrived at Bradley/Hartford yesterday and shared a shuttle in with four others, all women, one a former Disney animator, now free-lancer. We all were glad to meet each other and three of them had attended last year. Apparently they had around 30 students returning, which is not bad in a recession.
Remember that I did a massive fail in getting my assignment sketches ready (we were to pick from a list of assignments, do thumbs and shoot refs and bring a finished sketch or two to class the first day. I chose a basic fantasy assignment: The Lady of the Lake. On Sunday night, Jennifer Meyer, a great artist who is in the room next to Diana Stein and I helped me with a thumbnail and I made a really rough sketch--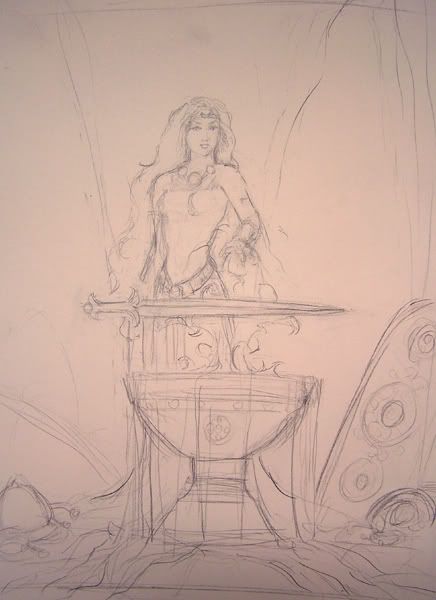 We are staying in the dorms at Amherst College. Lovely surroundings, good facilities, good food...
The room I'm sharing with Diana (most have only one to a room, but we volunteered to share).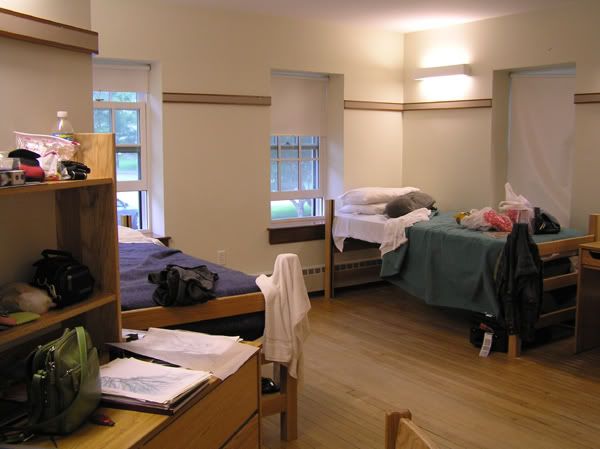 Ate breakfast at 8 on Monday morning. 10 we gathered for the visual presentation of some of the work of the instructors: Rebecca Guay, Donato Giancola, Boris Vallejo and Julie Bell, Greg Manchess, Charles Vess, Dan DosSantos, Irene Gallo (AD for Tor), Scott Fischer and Michael Whelan. Then we ran off to our Studios to set up and to get our sketches critiqued.
I had a few other crappy sketches--
(believe me, they were crappy... you should have seen some of the gorgeous finished sketches others had--they were suitable for framing as is!)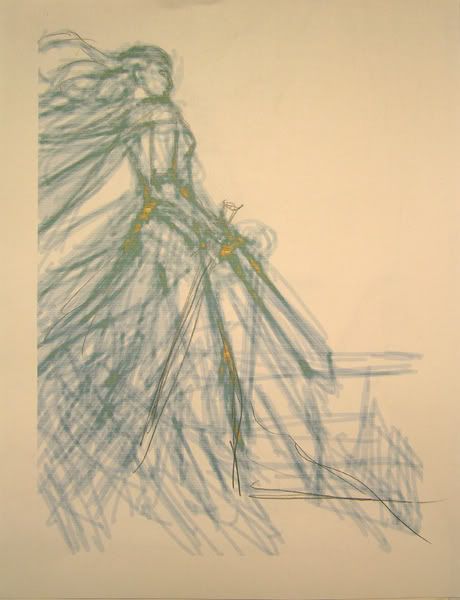 Four instructors made the rounds of one of the two studios (they would switch off on various days). Greg Manchess and Boris were doing my section.
They thought this sketch was better and suggested I move the sword a bit and said I'd need to get good photo refs to go further.
I grabbed Rebecca Guay to see what she said, since romantic fantasy is more her thing and she sketched a bit over my horrible sketch as well and suggested I flip the image.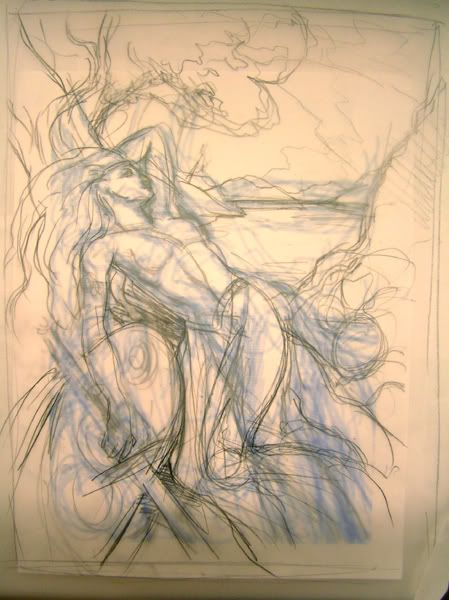 After dinner there was a great presentation by Boris and Julie and then Donato and Dan and a martial arts guy on shooting photo ref... slides of Boris and Julie's studio set up for taking photos (he as tons of expensive cameras and lighting). And Donato brought his diffusers and strobe light and reflected color gel light to do a demo with the marital artist doing leaps and kicks. Damn... we all need to upgrade our cameras and lights to a HUGE degree if we need to do it right. But as Boris said, it was better than when he had to use professional photographers and wait to develop the film, etc.
Donato also demoed his method of transferring and mounting the drawing onto board (masonite or illustration board). (Uses matte medium.)
In the studios Boris and Julie were working on their paintings, same with Greg Manchess and Charles Vess. Donato had a large private Lord of the Rings painting he was starting. The studios are all open until 1am.
After that we went to L.A. William's room because he had a strobe light and D-700 camera and we got other artists to volunteer to model. There are people with swords and armor and chain mail and scanners and printers... others are doing all digital, but most are going to eventually be doing traditional. I'll be trying oils for the first time since college.
It's now 2am and we have to be up at 7:30 tomorrow! It's going to be a crazy-ass week!
Labels: art, course, fantasy art, illustration, illustration master class, IMC
Subscribe to Posts [Atom]