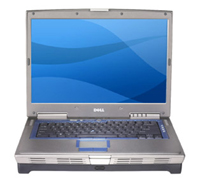 This is rather like making a baby announcement.
It's a Dell Inspiron 9100!
Pentium 4, 3.2 GHz
15.4" Scree, WUXGA
1 GB DDR, 400MHz DIMMs
128 MB ATI Mobility Radeon 9700
8X DVD+RW Combo Drive
60 GB Ultra ATA Hard Drive
Win XP Pro
Dell Website--Inspiron 9100
------------
This is, I am rather ashamed to admit, the first computer I've ever bought, and the only computer I've had at home in about ten years.
I work on a computer all day at work--and it has lots of programs on it and a high-speed internet connection, so I never had a burning desire to spend a lot of money to try and duplicate that at home. But being in the Computer Game Industry for around ten years makes this somewhat of a heresy as far as my co-workers go.
Peer pressure (and just wanting to do some things at home and not using my work computer) has brought me to the point of spending massive amounts on a computer. Of course I want a really cool computer...
I want to play some games on it, so I wanted a decent video card. I'm not a high-power gamer by any stretch, but I don't want to buy another computer any time soon, so I thought I'd better try for a better card--one that wasn't hundreds of dollars, though. Hence the 128 MG card as a minimum requirement.
Why Dell? Because I've used Dells at work and they seem OK. I've heard that they have experienced some problems--seemingly related to bad assembly and outsourcing--but perhaps the complaints are from people with axes to grind. Anyway, Dells allow for customization. I had some basic requirements (such as 1 Gig of RAM, to help out with any graphics-intensive programs I might be using) and didn't want to mess about with fine-tuning a laptop by myself, since I just am not good at that.
Why a Laptop? Because I hate hauling about heavy cpu's. I don't do it often--just when moving or for repairs or whatever--but they are a pain on the fingers and I'll pay the extra for not having to deal with it. Also--I'm in a one-bedroom apartment that is running out of space.
Why a Refurbished computer? The regular 9100's were regularly over 2K in price. I knew I could, eventually, see a configuration I liked on Dell's website. I was patient. After all, I could continue to use my work computer for nearly everything. And I hoped that with a Refurb, someone would have had to inspect it to make sure everything was OK.
--------
Well... I ordered on-line (using as many coupons and discounts as I could find--and there are usually quite a few on Dell's site and elsewhere--just Google it or something). The discounts actually brought the price down a few hundred to $1800.00+ which isn't too horribly awful (I'm so cheap!). Unfortunately there were no free shipping coupons around, but I figured it was OK, since at least it was a laptop and not horribly heavy.
I order it on August 27 and it arrives on September 1.
I plug it in and press Power. Leds flash, fans go on... Blank, black screen...
Oh, oh...
I try it a few more times. Read up on trouble-shooting.
After about 10 tries the display goes on and I get a few screens through the set-up, then black...
I get a bit farther the next time--all the way through set-up. I wonder if the computer is affected by the horrible heatwave we've been having. It's over 100 degrees and the whole box and computer was giving off heat like an oven when I first opened it.
I decide to let it rest and go home from the office for the day. The next day I start it up again... Black screen.
At lunch I try the website to see if it has trouble-shooting help. I don't think it likes my browser (Opera, because I got a horrible pop-up virus with Explorer), and I can't send a request to Tech Support. So I phone the 800 number and get Tech Support. A very nice guy with excellent English (but with the slightest, very slightest of accents; I know most of this stuff is done over-seas, though). He has me try pushing several Function keys while trying to start up. Nothing.
He quickly orders another computer to be sent out. A good policy, since I can just return mine in disgust and get my money back and decide to spend it somewhere else.
About five days later (as predicted), a new computer arrives at my work. This one goes on immediately. I bring it home and try to figure out if it has the same software and specs as the first one. This takes a few days, since we're in crunch (working long hours for no compensation) at work, so I'm getting home around midnight.
I check to see if the modem works, and various programs, like WordPerfect. I load on Microsoft Works, which came with the first computer.
My co-workers warn me that if I don't immediately send back the original computer I could get in trouble, but really, I don't have the time to sort it all out quickly. And wouldn't you know it, I get a letter asking about it, but worded quite nicely--giving instructions one how to send stuff back and who to call if there are problems.
So I finally pack up the old one in the new box (as they requested), hopefully keeping the correct software cds and instructions and AC adaptors and what-have-you.
Right now, I'm waiting for the DHL guy to come pick the box up.
I'll have to report later on how I find using the new computer.