[Been listening to Michael Jackson and Farrah Fawcett tributes all day and all night... I grew up with MJ... loved him in the Jackson Five and lived through the craziness of the brilliant Thriller album. Definitely the end of an era...]
So... Tuesday, June 16... I actually posted my first LJ report late on Monday night... so I think I got to sleep at around 2:30am or so. Breakfast was at Amherst's Valentine Hall from 7:00 to 8:30, a short walk from our dorm, Pratt Hall. But... I am SO not a morning person. Also, EDT is three hours earlier than PDT, which Did Not Help! *groan!*
[Michael Whelan, guest-instructor, viewing instructor Greg Manchess's work.]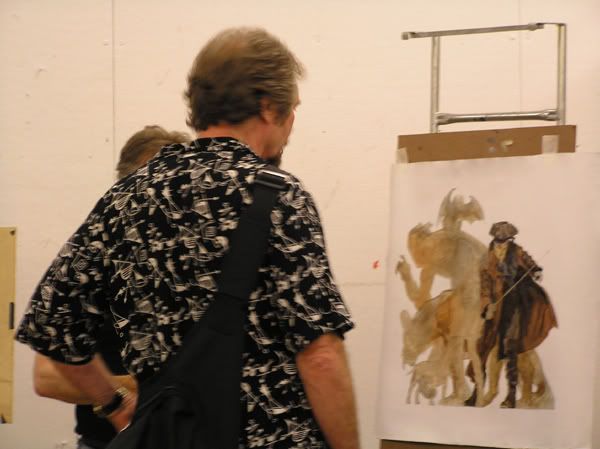 The food was good, though. And I thought I should have breakfast, since it came with the course and I knew it would be a long and busy day. We had a Hazardous Materials and Safety Meeting at 9:45, wherein the college's representative quickly ran down all the rules, such as making sure absolutely NOTHING went down the drains or into the trash that had any kind of paint or medium on it. There were special bins for everything--paper toweling and wash water and turpentine, etc. Wow. Well, I guess it wasn't a great idea for us to be pouring stuff down drains for all those years in other places, but still... wow.
Donato had some of his sketches spread out for us to look at--
I spent the morning on my laptop in my room, looking over the photo ref that was shot the night before and picking out the ones that were closest to my sketch, then laying them in to see... Of course, my sketch had the figure twisted in a pretty broken way (no human could pose that way, unless they were a contortionist... poor Zelda was not happy when I was telling her to try and twist around more!). THAT of course, is a reason photo refs are necessary--so figures can pose in a realistic way! Anyway, I mocked up an image with Zelda's pose. I'd change things in my sketch, of course... make her longer, mostly, but try and keep the pose looking real...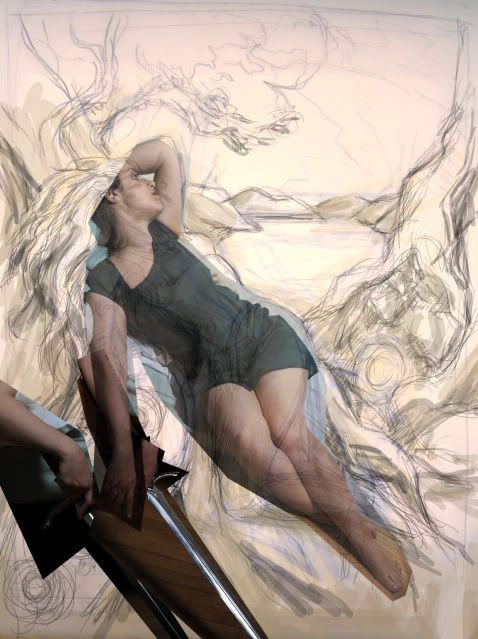 Then I ran back over to the Studio because that's where all the fun was! I 'borrowed' some tracing paper from Diana and sat in my spot and sketched for the morning. Troubles were looming in that the copy shop in town that usually makes large-sized prints on heavy art paper was out of service. Fortunately, Ruth Thompson had hauled along her 19" Epson printer and laptop and set them up in the Studio for everyone to use (with a suggested donation to cover ink costs). That was a total life-saver!
And Drew Baker had brought his 22" printer to use (back at the dorm). I swear, the students were all great about sharing stuff--materials and equipment... it was heart-warming!
Ruth had mounted one of her drawings to board already, using the Donato method, and had started her underpainting in acrylics (borrowing some of mine--which I rarely ever use nowadays, but had managed to pack). It was looking great. I had fun sitting next to her and seeing it all go along (particularly since I was working so slowly... my usual pace, alas!). She had tiled two pieces of paper together on the masonite, since her 19" printer couldn't accommodate her large image, which is why the papers look different.
Lunch was over at Valentine Hall... a short walk from our studios in Fayerweather, from 12 to 1:00. Again, a nice spread of food, cafeteria style.
And afterwards, we had a lecture at 1pm, by Dan DosSantos on Frankensteining reference. I was recording most of the talks, but haven't downloaded them yet. Anyway... he demonstrated by showing a photo he'd taken just outside, a model (Rebecca?) against a stone background with ivy. Then he'd rifled through the internet the night before to pull off bits and pieces that he used to create an outfit and jewelry and flowers for the background... and he put them all into the picture, flipping and distorting and changing the elements to make them work.
Here he is afterwards, laying in the sketch/undrepainting, with the printed out frankensteined photo-ref to his left, plus the original photo of the head and other refs around him. The top one was all gridded out so he could re-create it on his ground. Wow, he works quickly, getting that down! He had the face painted in a blink, it seemed!
The afternoon studio session always goes quickly and dinner was from 5:00 to 6:30.
7 to 8 was a Lecture/presentation by Greg Manchess. Again, I recorded it and haven't downloaded it yet, so no details yet (if anyone is interested, I may post more later). He covers his career so far and has lots of terrific images and is an amusing speaker--showing his reference shots--mostly using himself as a model for all sorts of figures!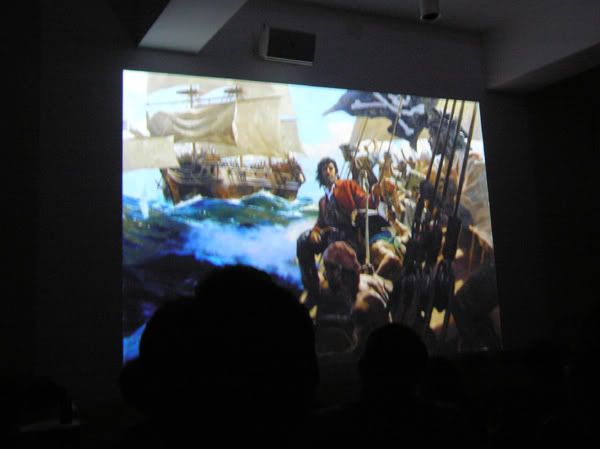 In the evening studio session, Boris and Julie are back, painting away. They've laid in background detail and their paintings are coming along so quickly.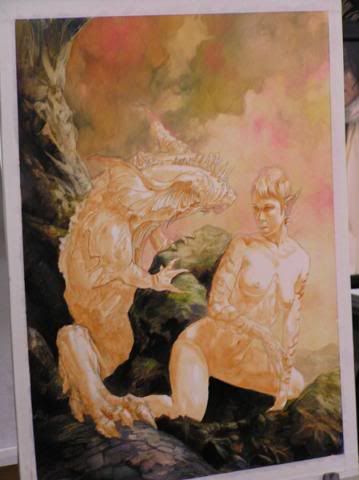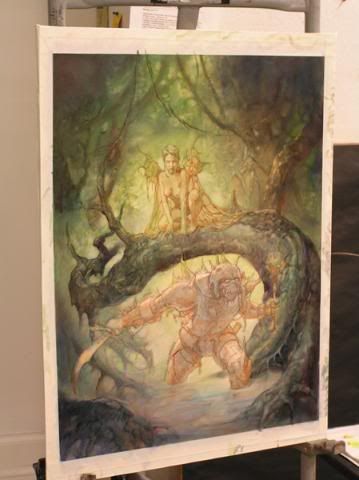 And then everyone is running for their cameras as Irene Gallo has been decked out in the full suit of armor that L. A. Williams has hauled along with him from Ohio. Another (Mark?) has brought a sword. (A number of students had brought props and stuff--swords, gowns, fabric--it was great!) Irene makes a perfect Joan of Arc, and that is Charles Vess behind her, and also L. A. Williams in the background.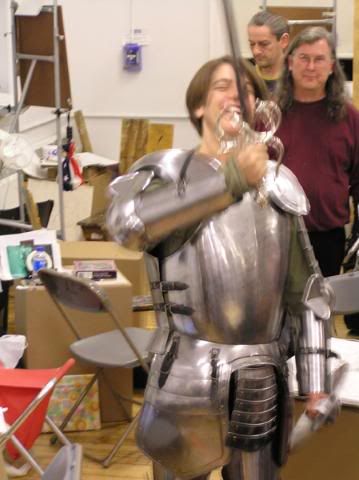 We were all laughing and having a great time crowding around them. It was just fun and crazy and not at all something you see every day!
For some reason, I'm still not early to bed! Ah, well... just too much going on. I think people are already hanging about the studios working away until the early morning! I try downloading my photos to possibly post here, but the wireless connection is pathetically slow, so I give up and wait until after I return (now!). Gah... It was like being on a bad dial-up! I don't know how the students stand it. Maybe they buy their own connection???
Anyway, more later!