[cross-posted from my LJ]
For a fantasy illustrator, this is like dying and going to heaven! There are 70+ students, ranging from beginning to being tops in their fields. Everyone is excited and working together and amazingly kick-ass. I arrived at Bradley/Hartford yesterday and shared a shuttle in with four others, all women, one a former Disney animator, now free-lancer. We all were glad to meet each other and three of them had attended last year. Apparently they had around 30 students returning, which is not bad in a recession.
Remember that I did a massive fail in getting my assignment sketches ready (we were to pick from a list of assignments, do thumbs and shoot refs and bring a finished sketch or two to class the first day. I chose a basic fantasy assignment: The Lady of the Lake. On Sunday night, Jennifer Meyer, a great artist who is in the room next to Diana Stein and I helped me with a thumbnail and I made a really rough sketch--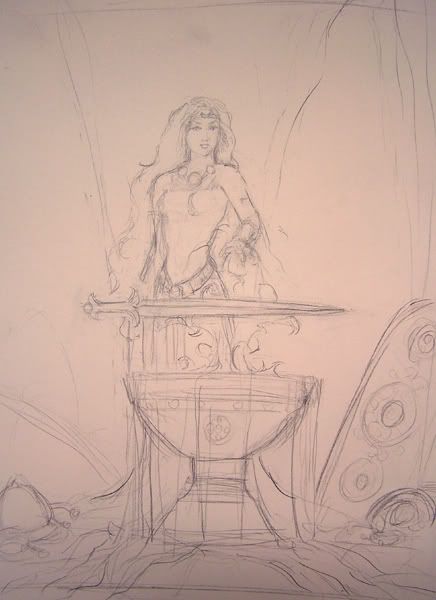 We are staying in the dorms at Amherst College. Lovely surroundings, good facilities, good food...
The room I'm sharing with Diana (most have only one to a room, but we volunteered to share).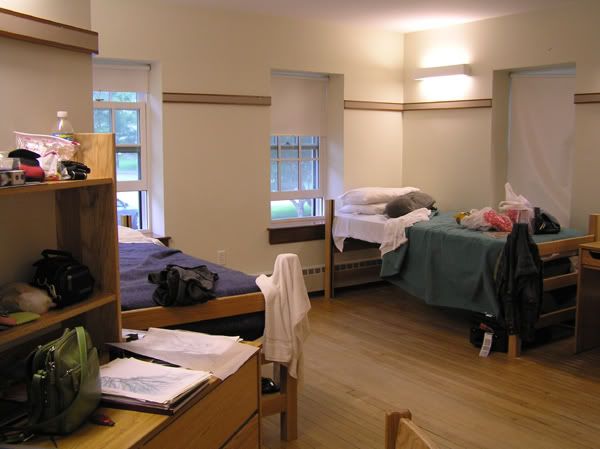 Ate breakfast at 8 on Monday morning. 10 we gathered for the visual presentation of some of the work of the instructors: Rebecca Guay, Donato Giancola, Boris Vallejo and Julie Bell, Greg Manchess, Charles Vess, Dan DosSantos, Irene Gallo (AD for Tor), Scott Fischer and Michael Whelan. Then we ran off to our Studios to set up and to get our sketches critiqued.
I had a few other crappy sketches--
(believe me, they were crappy... you should have seen some of the gorgeous finished sketches others had--they were suitable for framing as is!)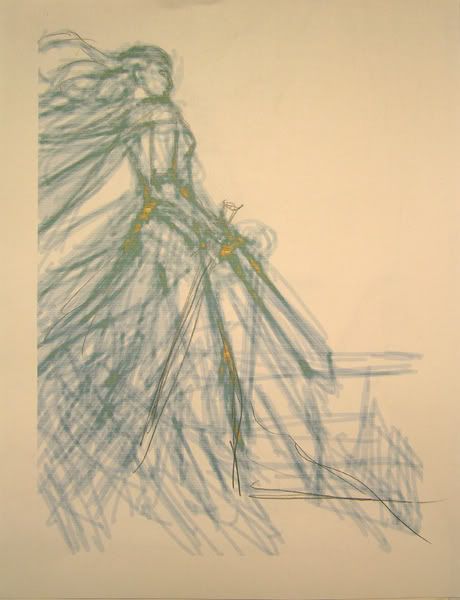 Four instructors made the rounds of one of the two studios (they would switch off on various days). Greg Manchess and Boris were doing my section.
They thought this sketch was better and suggested I move the sword a bit and said I'd need to get good photo refs to go further.
I grabbed Rebecca Guay to see what she said, since romantic fantasy is more her thing and she sketched a bit over my horrible sketch as well and suggested I flip the image.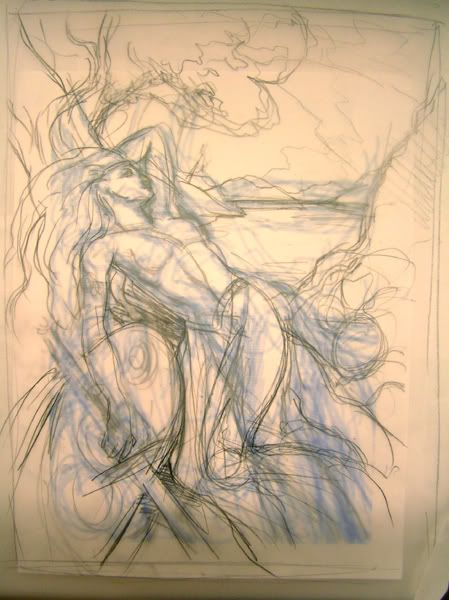 After dinner there was a great presentation by Boris and Julie and then Donato and Dan and a martial arts guy on shooting photo ref... slides of Boris and Julie's studio set up for taking photos (he as tons of expensive cameras and lighting). And Donato brought his diffusers and strobe light and reflected color gel light to do a demo with the marital artist doing leaps and kicks. Damn... we all need to upgrade our cameras and lights to a HUGE degree if we need to do it right. But as Boris said, it was better than when he had to use professional photographers and wait to develop the film, etc.
Donato also demoed his method of transferring and mounting the drawing onto board (masonite or illustration board). (Uses matte medium.)
In the studios Boris and Julie were working on their paintings, same with Greg Manchess and Charles Vess. Donato had a large private Lord of the Rings painting he was starting. The studios are all open until 1am.
After that we went to L.A. William's room because he had a strobe light and D-700 camera and we got other artists to volunteer to model. There are people with swords and armor and chain mail and scanners and printers... others are doing all digital, but most are going to eventually be doing traditional. I'll be trying oils for the first time since college.
It's now 2am and we have to be up at 7:30 tomorrow! It's going to be a crazy-ass week!